Upcoming Events
Royal Court
will be touring with

in Michigan early 2005
Not on Tour
At This Time


Not booking tours
at this time
Royal Court
is making available a
FREE CD of skits
playable for
church services, youth groups and children ministries
Please contact us for full details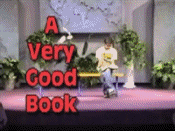 Click to see low resolution version
of this month's featured skit:
A Very Good Book
Contact us:
royalcourtprod@lycos.com
Phone:
810 240-8201
US Mail:
Royal Court Productions
3103 Thompson Rd
Suite 109
Fenton, MI 48430
Be imitators of God..." Ephesians 5:1

The visual medias... movies, television, and theater... are important influences in today's society. They can carry messages and philosophies that shape the ideas and beliefs of multitudes. Look at how a single movie, Star Wars, as popularied belief in "the Force", a non-existant mythical whatever.

Through the media, the homosexual community has managed to change their "lifestyle" from one that people use to avoid and shun, to one that should not only be "tolerated" but into something that is almost superior to the heterosexual lifestyle. So that now a group of "queers" is showing the "straight guys" how to live.

Look at how many milions of dollars companies will pour into a sixty second ad during the Superbowl - and that's before you even count the cost of airing it once. (Then tell me that television and movies do not influence people's actions.)

The Bible, in Ephesians 5:1, tells us to be "imitators" of God. It is from that Greek word that the word "thespians" (actors) comes. By "acting out" on the principles and purposes of God on stage, we can powerfully influence the culture of our world. Most people are not reached by intellectual arguments, but by the softening of their hearts - easily accomplished by a good drama or comedy.

As Christians, we have a calling to "redeem" the entire world around us. The performing arts - including the stage, television and movie - must be included in the redemption. They need to be used as the powerful tools they are for changing our world.
Founded by Patty and DeWayne Coons, Royal Court strives to present quality Christian entertainment for the whole family, with a life changing spiritual message. The Coons bring to Royal Court over 25 years of producing and writing plays together. Their current vision is for developing actors, singers, writers, and producers, as well as plays.
Royal Court plans to present one major performance every year (such as the musical "Godspell" in the fall of 2003), supplemented with monthly skits used as a training ground for aspiring thespians and other performers. The skits are currently performed as part of the Sunday morning services at Faith Fellowship Ministries in Fenton, Michigan..

Each weekly rehearsal includes acting lessons and exercises designed to teach acting skills. Royal Court is open to anyone in the Fenton Michigan area who wants to join. Please contact us for details and application.